Concrete Finishers (Apprenticeship Trade)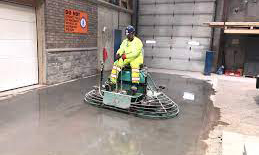 Concrete finishers place, finish and protect concrete surfaces. They work on a variety of vertical and horizontal surfaces and structures such as concrete floors, walls, sidewalks, stairs, driveways, curbs and gutters, dams, bridges, and tunnels. They also texture, chip, grind and cure finished concrete work and are responsible for the repair and restoration of damaged concrete.
Concrete Atlantic has been working with Apprenticeship NS to developing training pathways. If there is any interest in being a Concrete Finsher Journeyperson, contact Concrete Atlantic for more information.